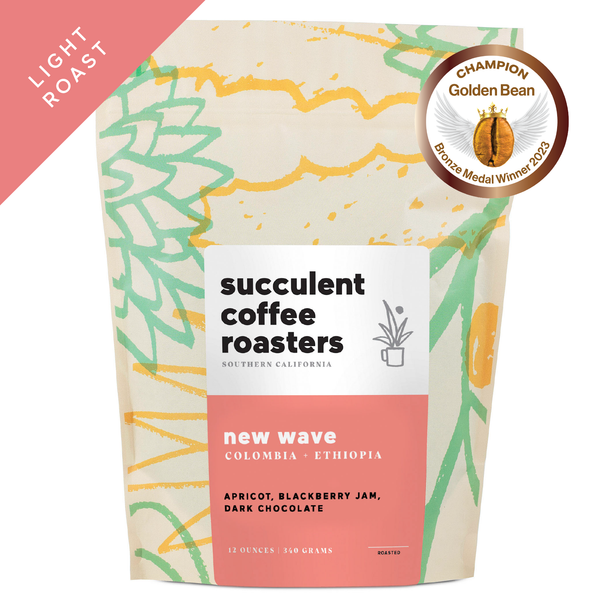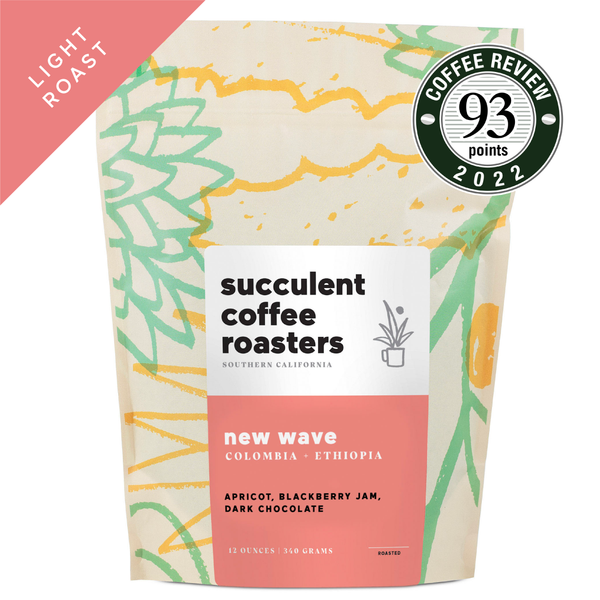 light roast | smooth & balanced
about:
Bronze Medal Winner, 2023 Golden Bean Coffee Roasting Championship
Are you tired of getting pummeled by over-roasted, tasteless coffee in the morning, when all you want is something smooth and balanced to jump-start your day? Well, look no further. This is the coffee for you!
Catch the New Wave coming straight out of the Succulent Coffee roastery. Using exquisite beans from two of our favorite coffee producing regions, we've created a signature blend that you'll want to enjoy all day long.
At first sip you'll taste the lively, stone fruit sweetness of a natural process coffee from the Guji region of Ethiopia. Before you can say, "Wow that's good!" you'll be relishing the full-bodied, dark chocolate finish brought forth by a washed Colombian coffee from the Sierra Nevada region. The result is that flavorful, truly balanced cup of coffee you've been looking for all along.
The experts at Coffee Review gave New Wave 93 points and highlighted it in their February 2022 Tasting Report. 
WE TASTE: apricot, blackberry jam, dark chocolate
OUR FAVORITE BREWING METHODOLOGY: Batch Brew, AeroPress
more details:
ORIGIN:
Sierra Nevada, Colombia
Keffa Zone, Oromia Region, Ethiopia
COFFEE VARIETIES:
Caturra (Colombia)
74/158, 74/110, Setami, Mikicho (Ethiopia)
MILLING PROCESS:
Washed, sun dried on raised beds (Colombia)
Natural, aka dry process (Ethiopia)
SUPPLY CHAIN PARTNERS:
Farmers -

Colombia: producers with small farms in the Sierra Nevada region of Colombia
Ethiopia: multiple smallholder coffee producers from a washing station in the village of Wush Wush owned by Dinkalem Ademe
Importers - Royal Coffee (Colombia) / Catalyst Trade (Ethiopia)

Exporters - Terra Coffee SAS (Colombia) / Catalyst Trade (Ethiopia)