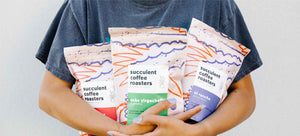 specialty coffee subscriptions that are a win for everybody.
how it works
We offer our customers roaster's choice or regular subscription options. Whatever your preference, we'll make sure you get your coffee orders however you want them.
can't choose? let our expert team select for you with a roaster's choice subscription.
Roaster's Choice subscriptions are an excellent way to experience our variety in coffee flavors and discover your next favorite.
already have a go-to favorite? subscribe to save on all your recurring orders.
Regular subscriptions put you in full control. Customize your selection to meet all your preferences and never run out of your favorite coffee again.
It's rare to find a truly sustainable offering where the quality of the product, doorstep delivery, and taste are all outstanding. I start every day with "The Ninth" or "Marine Layer". I highly recommend these two versions and will enjoy trying the others soon.
Reid M.
coffee subscription faq's
How do I sign up?

Simply select your favorite coffee or one of our roaster's choice options and follow the prompts.
Am I saving money by ordering a subscription?

Yes! You get 10 percent off recurring orders of all regular products that are subscription eligible. 
When will my coffee subscription ship?

Your first subscription bag ships within 1-3 days of placing your order. Subsequent coffee will ship on the day you signed up at the interval you select (every one, two, four, or six weeks). You'll receive an email notification that your order has been placed, along with a notification once it has been shipped.
What if I change my mind?

You can update your subscription at any time. Simply log in to your account on our website and click on "Manage Subscriptions." Answer the prompts and you'll be good to go. If you have any trouble, email us at info@succulentcoffeeroasters.com and we'll help you right away.
How do the "roaster's choice" options work?

You think variety is the spice of life and you trust experts, which is why you've chosen this option. Our expert team at the roastery will ship you a rotating selection of our finest blends or our freshest seasonal single origin coffees, depending on the option you choose.
Can I gift a subscription?

Not yet, but we're working on it :)
What good cause are subscription donations going toward?

We donate $2 of every bag you purchase through a subscription to our friends at The Chain Collaborative. They build relationships with local leaders in coffee-growing regions, cultivate their project design and management skills, and foster the development of their farming enterprises. See the "giving back to the community" section below to learn more. 
giving back to the community
We started Succulent Coffee Roasters knowing it could be a force for change in our industry, our community, and our world. Recognizing that we're stronger together, we've partnered with The Chain Collaborative to support their extraordinary work in the coffee sector.
By becoming a Succulent Coffee Roasters subscriber, you get to join us in this mission. For each subscription you purchase, we'll donate $2.00 to our partner on a recurring basis. So, every time you receive your coffee, you're also giving $2.00 to a good cause.
Together, we're doing good and brewing good.
meet our community partner...
We invite you to learn about the incredible work of The Chain Collaborative, our community partner that we're proudly supporting with your subscription purchases!